Notícias
Paper about the Samarco's disaster in Biodiversity and Conservation (Download the article below)
publicado em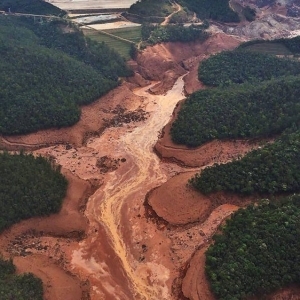 Brazil's Mining Code under attack: giant mining companies impose
unprecedented risk to biodiversity

Renata M.S.A. Meira,1,2* Ariane L. Peixoto,1,3 Marcus A.N. Coelho, 1,3 Andréa P.L.
Ponzo,1,4 Vânia G.L. Esteves,1,5 Micheline C. Silva,1,6 Paulo E.A.S. Câmara,1,6 João
A.A. Meira-Neto 1,2*
*Corresponding authors. E-mail: presidente@botanica.org.br, j.meira@ufv.br
Brazil owns one of the largest biodiversity in the world. It has the largest area
of tropical forests, the most biodiverse tropical savanna and is one of the
countries that have experienced very significant economic growth during the
20th Century and the beginning of the 21st Century. It is among the top ten
economies of the world, largely based on environmental resources and
commodities production. Two main environmental laws from 1960's, the Forest
Code and the Mining Code, have imposed restrictions to the use of natural
resources by landholders and companies up to the 2010's. In 2012, however, big
companies and political lobbies have succeeded to change the Forest Code and
are threatening the sibling Mining Code.
In 2012, the Farm Lobby, formed by landholders and representatives, has
politically influenced the Brazilian Congress towards important changes in the
Brazilian environmental code (Stickler et al. 2013). The lobby has benefitted
from the 21st century's Brazilian economic growth inflating its influence in
politics proportionally to the prices of export-oriented crops (Martinelli and
Filoso 2008; Martinelli et al. 2010). The changes in the Forest Code included
decreasing the areas of permanent preservation on riverbanks, top hills and
slopes, shrinking substantially natural habitats (Rosolen et al. 2014). The
habitats became less connected and, therefore, the result is species loss and an
increase in natural populations prone to extinction (Marques et al. 2010).
As the Forest Code discussion was under way, the Mining Lobby was
increasing its political influence as the prices of iron ore, pushed by China's
industrial growth, hit the highest historical records (Blas 2011). Despite the
Mining Code ruling, mining activities are supervised by a very limited number of
technicians supported by a very deficient structure. As result, much of the
mining activities in Brazil are still informal (Spiegel et al. 2012). Without
adequate supervision, giant mining groups have profited a lot. Nevertheless, the
Mining Lobby sees the Mining Code as a trouble.
Mining activities have produced large amounts of waste, accumulated in
dams. There are hundreds of dams with mining waste and, more than 40 are
unstable and at full capacity, only in Minas Gerais State. Tragically, last
November 5th the largest environmental disaster in Brazil took place. The
incident has spilled 40 million cubic meters of mining waste when a dam
Manuscript Click here to download Manuscript
biodiv_conserv_revised.docx
Click here to view linked References
collapsed, initiating a shocking succession of events. Human beings were the first
direct victims in a village called Bento Rodrigues, Minas Gerais State. The
sequence included nearly a million people without tap water for days, fishing
suspended in traditional fisher's villages, universities and schools closed in two
Brazilian States, Minas Gerais and Espírito Santo (Jamasmie 2015).
The company that owns the collapsed dams is Samarco, a joint venture
between Vale and BHP Billiton, the largest mining companies of the world. The
Vale Company was formerly named Companhia Vale do Rio Doce , but has since
removed the Rio Doce from its old designation. Today, Vale has also removed life
from the Rio Doce. Fish, frogs, turtles, birds and mammals were affected by the
mud wave. Gallery forests, bridges and everything on the way torn down as the
waste wave passed, incorporating the dead biomass and debris in a "tsunami"
(Mesquita 2015) that ran downstream along 800 km of river bed and riverbanks
- ironically still protected by the new version of the Brazilian Forest Code.
The disaster has worried the Mining Lobby in the Brazilian Congress. As the
headlines concerning the disaster were changed by headlines of the political
struggle between federal government and opposition, the mining lobby has
moved strategically its representatives. For instance, one month after the
environmental disaster of Minas Gerais and Espírito Santo states, the leader of
the mining lobby became the leader of the largest party of Brazilian Congress. As
federal government, opposition, lobbyists and representatives find themselves
amid scandals of millionaire pay offs originated from big companies, the new
Mining Code is awaiting the best moment to be voted. If we take the change of
the Forest Code as a trend in Brazilian Congress (Soares-Filho et al. 2014), the
new Mining Code will tone down the duties of mining companies, increasing
even more the profits and threatening remarkably Brazilian's biodiversity.
Not only iron ore mining is threatening Brazilian biodiversity, but also energy.
Water use for power plants is a major environmental problem. Oil production is
becoming a serious threat along 7,360 km of Brazilian coast. Brazil has huge oil
reserves under the sea (Cezário et al. 2015). The exploitation is still beginning,
but the profitability is huge as the Brazilian Oil company, PETROBRAS, is a
monopolist (Borges et al. 2014) and a big political player. Rivers, estuarine
ecosystems, coral reefs and coastal dunes will be under risk.
As teachers, biologists and botanists studying biodiversity, we care about the
extant biodiversity not only in Brazil, but also all over the world. We would like
to share plants and animals we have had the honor to learn from and teach the
future generations. We are looking forward to managers of companies that will
be committed with the people, with the world and not with the profit of few
companies and lobbies.
Concerning the actions to mitigate disasters as that caused by Samarco, Vale
and BHP Billiton, we challenge governments, lobbies and companies that profit
from natural resources to prove they are not greedy, they are well intended
about the world, about the people and about extant biodiversity. Leave the
Brazilian Mining Code as it is. We propose primarily the creation of important
new areas of natural reserves as mitigation measure against biodiversity loss
due to their activities. In the case of the recent disaster, fines and prosecutions
would largely finance it. Additionally we propose the connection of the remnants
of natural habitats, restoration of the ecosystems, and preventive protection of
the riverbanks and of the coast. The respect to the biodiversity is the respect to
the people today and also to the future generations